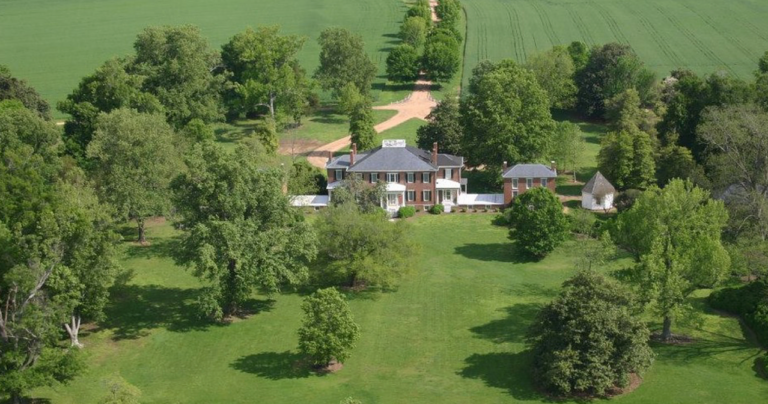 Experience history and the grandeur of some of America's oldest plantations and Mansions by personal air tour. Soar back in time as we see the sprawling landscapes and architecture of these gems of the James.
Berkeley Plantation​​​, on the James River is the most historic plantation on the James River. Visit the site of the first official Thanksgiving (1619), as well as the birthplace of Benjamin Harrison and President William Henry Harrison.
Sherwood Forrest Plantation, home of President John Tyler, tenth President of the United States. It has remained the home of generations of Tylers and is currently the home to President Tyler's grandson, Harrison Ruffin Tyler.
Bacon's Castle, is distinguished as America's premier example of high style 17th-century domestic architecture and the oldest documented house in Virginia. The house was built for properous planter Authur Allen in 1665. As Allen was a member of Virginia's House of Burgesses and a loyal supporter of Govenor Berkeley, it is not surprising that his home was used by forces that were attempting to overthrow the colonial government.
Brandon Plantation, one of America's most admired works of colonial architecture, illustrates the influence of English interpretations of the designs of Renaissance architect Andrea Palladio. The house was built in 1765 by Nathaniel Harrison II, for his son Benjamin Harrison. Originally Brandon was part of the vast land grant to John Martin, companion of Capt. John Smith, on his first voyage to America. In 1637, merchants John Sadler and Richard Quiney and mariner William Barber, bought Martin's Brandon. Today, the house is furnished with 1760s English and American furniture. The expansive estate contains more than 4,500 acres, of which 1,600 acres are cultivated with soybeans, wheat and barley. The agricultural activities, representing one of America's oldest continuous farming operations.
Chippokes Plantation State Park, located at 695 Chippokes Park Road, Surry, Virginia, is a rural, agricultural area off the James River and Route 10 in Surry County, and is protected under the state park system. Chippokes Plantation was established in 1617 by Captain William Powell of the Jamestown Settlement in the Virginia Colony. In 1967, the 1,700-acre plantation was donated to the Commonwealth by Mrs. Victor Stewart for use as a state park. One of the largest working farms in the nation, Chippokes has kept its boundaries since the 17th century. The structures and artifacts on the property reflect plantation life from the early 17th century to the present.
Claremont Manor, recognizeable via the granite marker in the center of town that commemorates the landing of the English settlers on May 5, 1607. The Mansion was built around 1750.
Your pilot will serve as your personal guide, highlighting points of interest, providing local insights, and answering questions throughout your air tour. Headsets Provided. We accept all major credit cards.
Book Now – Mansions & Plantations Air Tour $339 | 60 Minutes